Are you an employer or employee who likes to get that paycheck in your hand every pay period? There are people who like that trip to the bank to make deposits. However, they may be putting themselves – and their employers – at risk by getting that paper check.
When paychecks go missing…
It's not an uncommon event to have paychecks stolen. One small business owner found himself in a pickle. A man simply parked his car at a hotel to have dinner with a friend and when he returned, the bag containing the checks was gone. The thief may not have even known he was stealing checks because they were completely out of sight in a bag. But in any event, the employer now has a big problem that has to be resolved right away. Employees are waiting for their wages.
Replace your paycheck system and improve processes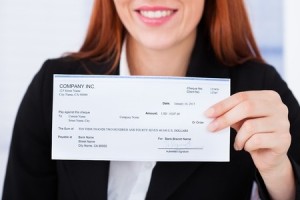 Entrepreneurs have to take leadership roles and sometimes that means dictating processes that ensure safety and security – like with payroll. And most often in today's workplace, payroll is paid in one of two ways:
Automatic deposit into employee bank accounts
Credit to a payroll card and used by the employee
Small business owners have enough to think about to keep the workplace running. In addition to using automatic deposits, more and more employers are outsourcing their payroll to a payroll provider. Not only does hiring out for payroll services ensure accuracy and efficiency, it keep the budget in line.
Employers are realizing that it is just not worth the risk when dealing with taxes and employee wages to keep it in house. The payroll fees are far outweighed by the costs of in-house processing and definitely as protection against error in payroll taxes, reporting and making deposits.
Streamlining the payroll process so that it can be handled virtually from start to finish eliminates the potential of having paychecks stolen from the back of a car during an errand run. And, with it being automated, it can be handled efficiently, which means it is cost effective.
If you are ready to save yourself time, money, headaches and worry, contact The Payroll Department. Let us put our years of experience to work on your payroll and payroll taxes. Outsourcing your payroll may be one the best decisions you make for your business this year. Contact us and let's set a time to talk!
-Teresa Ray, Founder and Owner
The Payroll Department