While most clients understand the importance of paying their bills in full and on time, some clients inevitably will pay for goods and services late. Unpaid invoices and the effort to get them paid can be a huge challenge for a small business' profitability – in time and money.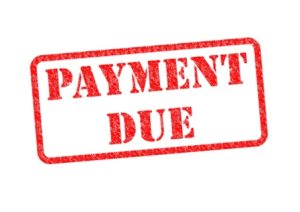 According to data from Atradius, one-third of businesses in the U.S., Canada, Mexico, and Brazil have invoices that are more than 90 days past due. If your small business struggles with getting paid on time – or at all, it can affect the overall health of your business. Without cash flowing into your business, you may not be able to pay employees, buy goods or services your business needs, or make essential changes to your business.
What Can You Do About Clients Who Don't Pay?
No matter what type of business you have, you'll have to follow up on your accounts receivable. If you have clients who have unpaid invoices of 60, 90, or more days, here are some actions you can take:
Find Out Why
Not every person or company who hasn't paid within a realistic timeframe has the same reason for doing so. It may have just been an oversight. Or, they may be having financial issues. Or, they may be unhappy with the work you've done. Once you know the reason, you can take appropriate action.
Contact the Client Directly
While it's fine to send an email, it can be easily overlooked. A phone call shows you mean business. During your conversation, remind them of your terms and conditions, the amount due, and how many days late their payment is. Come to agreement on when the amount will be paid. Make sure to document your call, in case the client misses the new deadline date.
Keep Following Up
Until your client pays their unpaid invoices, continue to follow up regularly. Continue to document all efforts to collect what's owed to you.
Stop All Work
If you are still doing work for a client who hasn't paid in several months, you can notify them that you will stop all future work immediately until you have been paid in full to date.
Have an Attorney Send a Letter
Contact an attorney and have them send the client a letter asking for payment. The letter should state what the legal ramifications will be if they don't pay by a specific date. However, you will need to weigh the cost of the attorney's work versus what your client owes you to determine if you want to pursue this course of action.
Hire a Collections Agency
 If your client is unresponsive to previous requests for payment, and the debt owed is considerable, you may want to hire a collections agency. However, you will need to consider the amount your client owes versus the collection agency's fee. Is it better to receive a portion of what is owed than nothing at all?
Take the Client to Court
You can take your client to small claims court, if the amount they owe is $6,000 or less (for the state of Indiana). You do not have to hire an attorney for small claims court, unless you choose to. If your client owes more than $6,000, you could represent yourself or hire an attorney to take them to superior court. However, again, you should weigh your legal expenses versus the amount owed to determine if this course of action is worthwhile. If not, it may be best to cut your losses and move forward.
In a perfect world, your clients will always pay their bills in full and on time. And you would never have to deal with unpaid invoices. Unfortunately, the business world isn't perfect. Therefore, it's up to you to act to ensure you're paid for your goods and services.
Don't Have the Time to Handle Accounts Receivables Tasks?
Pursuing clients with unpaid invoices can take a lot of time out of your day – and cause much frustration. Additionally, some business owners just don't feel comfortable chasing down payments. By outsourcing your bookkeeping services to The Payroll Department, we can help you with not only issuing invoices, but, also, with following up on payments. A skilled bookkeeper, like Grace Walker, at The Payroll Department knows how to manage your accounts receivable more efficiently. Also, she can help you develop contracts that clearly spell out your payment policies, so your clients understand their obligations upfront.
If you want to make sure you're getting paid on time, contact Teresa Ray at The Payroll Department at 317-852-2568 to learn more about our bookkeeping services and how they can help your business increase your profitability.
– Ariane of The Payroll Department Blog Team